Jaksta Media Recorder is the ultimate toolkit for downloading and capturing ANY online video and audio. If you can watch it or listen to it, you can save it to your PC.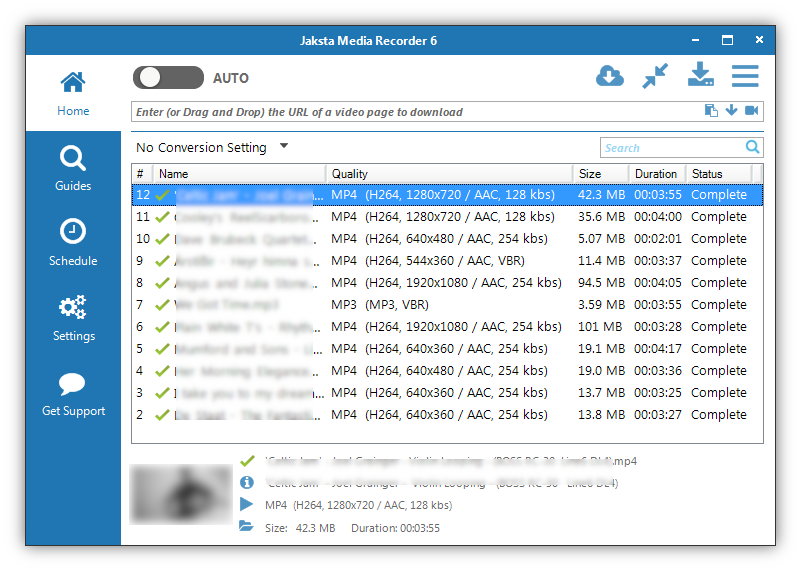 The best Free YouTube downloader
Jaksta Media Recorder allows free YouTube downloads even in trial mode. Use Jaksta Media Recorder for your YouTube downloads as it is the best YouTube downloader for Windows.
Its simple to use
Just play online video or audio in your browser, and a copy is downloaded to your PC. You can also just drag and drop (or cut and paste) webpage urls containing videos directly from your browser and Jaksta Media Recorder will extact the video. Its as simple as that!
Fast Video Downloads, Top Quality!
Download videos up to 10x faster than playback speed! Where multiple qualities and/or formats are available for the video you want to capture, Jaksta Media Recorder will prompt so you can select what is right for you. Or you can simply configure a quality and prefered format and the application will make the selection for you.
Save Music Files from ANY Site
For music lovers, Jaksta Media Recorder can either download or record music as you listen to it. Save the music your streaming into high quality audio files, perfectly separated into individual tracks, and automatically tagged with all the song information, album art and lyrics.
Jaksta Media Recorder's Audio Recorder capture method makes it super-simple to save music or other audio, even from sites that don't allow downloading. Our proprietary audio capture technology ensures only the audio stream you are interested in is saved, free from background sounds.
Save Videos from ANY Site
The Jaksta Media Recorder Digital Video Recorder (DVR) capture method is supurb at capturing from premium sites such as Netflix and Hulu where downloading is not allowed. Our proprietary DVR technology allows high quality recordings to be made silently in the background, so you can can continue working on your computer.
Save Radio from ANY Site
If you like radio, Jaksta Media Recorder can record it as well. Sites like Pandora, iHeartRadio, Last.fm, Rdio, TuneIn and more are all supported. You can also schedule recordings of traditional broadcasts.
Convert to 130+ Formats and Devices - Automatically
Jaksta Media Recorder lets you pick the target format for your video or audio recordings. You can just choose a device (like iPhone, etc.), or a format, or customize one of the presets. If you use iTunes or WMP, your recordings can be imported automtaically.
Built-in Media Guides
Part of the fun of media is exploring, and Jaksta Media Recorder's extensive Guide system gives you a world of media to discover. As you browse a guide, you can choose to record whatever you find. It's powerful, convenient, and most of all - fun.
Monitor WebCams and other Live Streams
Never miss your favorite gamer or webcam performer's show again! With the Jaksta Media Recorder monitor, you can check a webpage at regular intervals for a live stream. Once the stream goes live the capture will begin!
The monitor is great for monitoring webcam, gaming and other sites where the stream is not always live. The possibilities are endless!
Schedule Unattended Live Recordings
Sometimes you want to record a live event, and can't be present. No problem! With the Jaksta Media Recorder scheduler, you can set up a recording to happen automatically at a time and day you choose. Even recurring events.
The Scheduler is great for recording radio shows, downloading live lectures, sports, webcams, webinars and more. The possibilities are endless!
30 Day Money Back Guarantee
Every Jaksta product comes with a 30 day money back guarantee. Order now with full confidence.